Japanese LaserDisc Collection
Maison Ikkoku Complete 24 LD Box めぞん一刻
< Front || Back >

Disc 1 contains episodes 1-4. All discs are CLV.
A different version of the opening is included as bonus.
< Front || Back >

Disc 24 contains episodes 93-96 (final).
As a bonus you'll find four trailers on this disc.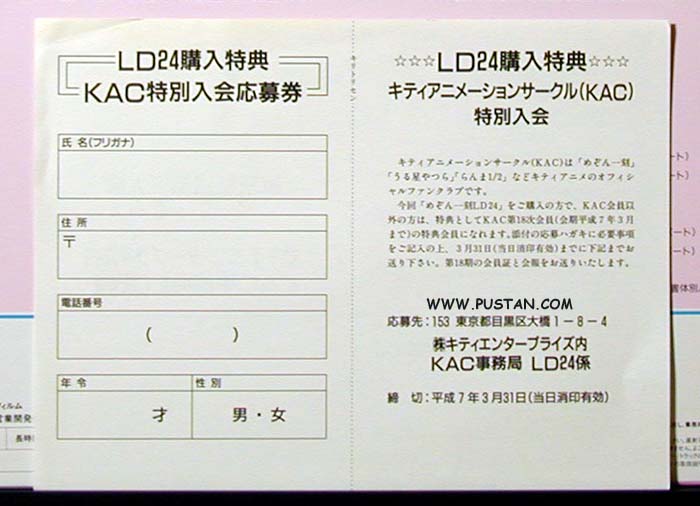 Included with the box is this postcard, which probably enabled you to get some exclusive goodies once you had purchased the box. Or maybe it is just a KAC (Kitty Anime Club) membership application?

This is one huge box containing 24 LD's and all, so it also has a cute picture on the side.
This box also somewhat became the standard format for Kitty releases, you can find Touch, Urusei Yatsura, Sasuga no Sarutobi and some other series in this box size. Urusei Yatsura actually needs two of those boxes, including 25 LD's each. I do have that set as well, but I am too scared to even start working on it. So don't expect it to be added to the website soon.
There was also a late re-release of this set (in November 1999) with basically the same cover art on the box, but if I can tell from pictures I have seen on Yahoo Auctions, it includes the separately published discs which have different cover art on the jackets and an individual OBI each. It had the reference PCLA-00149. Same is likely to have happened with the PCLA-00150 re-release of Urusei Yatsura in April 2000. Anyways, a really nice set to have. :)
And yeah I was so crazy and counted it: All together, there are 392 chapters on these discs.
Also this is one of those epic anime series which are not made anymore these days. Kyoko is ranking very high on the 'perfect wife scale-o-meter' and women like that probably don't exist in reality at all. Maybe that is what makes anime so nice? :P
Also, I've always liked the style of Takahashi Rumiko (高橋留美子) and I hope to buy the Ranma 1/2 TV series box sets one day. Like Urusei Yatsura, they come split into two sets because they include the massive number of 41 LD's. But they use different boxes, not the usual Kitty ones.
I think I have managed to collect most of the other available Rumiko works on LD, you can find them scattered around on the site. Because her stuff was quite popular a few subtitled U.S. releases exist as well, but not of Maison Ikkoku. You have to help yourself with fan subtitles and a Genlock. I am planning to explain a "how-to" on that topic somewhere else on this site one day, if you are impatient you can ask me questions by mail.