Japanese LaserDisc Collection
Tenchi Muyo! Ryo-Ohki OVA THX LD Box 天地無用!
< Front || Back >

LD#1 contains:
OVA 1: Ryoko Resurrected (1992)
OVA 2: Here Comes Ayeka! (1992)
< Front || Back >

LD#2 contains:
OVA 3: Hello Ryo-Ohki! (1992)
OVA 4: Mihoshi Falls to the Land of the Stars (1992)
< Front || Back >

LD#3 contains:
OVA 5: Kagato Attacks! (1993)
OVA 6: We Need Tenchi (1993)
< Front || Back >

LD#5 contains:
OVA 8: Hello Baby (1994)
OVA 9: Sasami and Tsunami (1994)
< Front || Back >

LD#6 contains:
OVA 10: I Love Tenchi (1995)
OVA 11: The Advent of the Goddess (1995)
< Front || Back >

LD#7 contains:
OVA 12: Zero Ryoko (1995)
"Appendix" on side 2, which is a 20 minutes bonus program
including TV spots, character files and more... not THX/AC3!
< Front || Back >

LD#8 contains:
OVA 13: Here Comes Jurai (1995)
and "Bonus episode" Here Comes Jurai - part II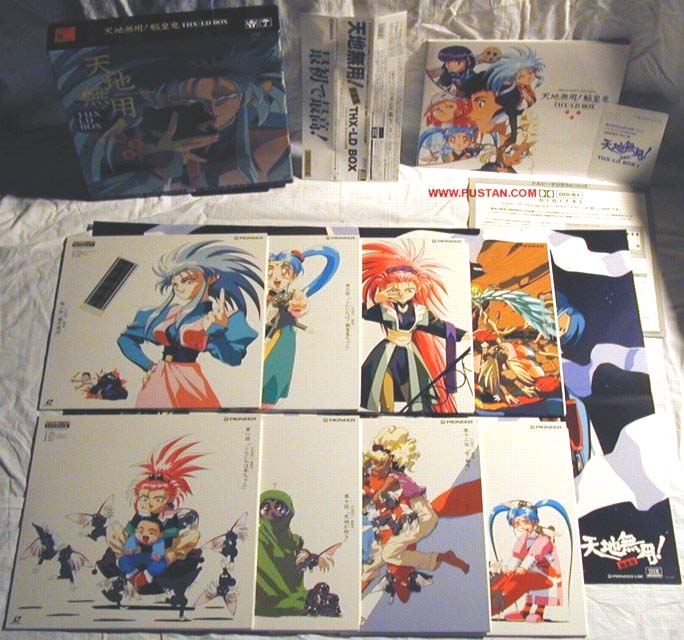 The whole set at once: The box, obi strip, the big and beautiful booklet, registration card and the huge poster. On the poster are the 8 LD jackets. On the jacket of disc #1 is the film strip and there is also a Dolby Digital 5.1 insert sheet.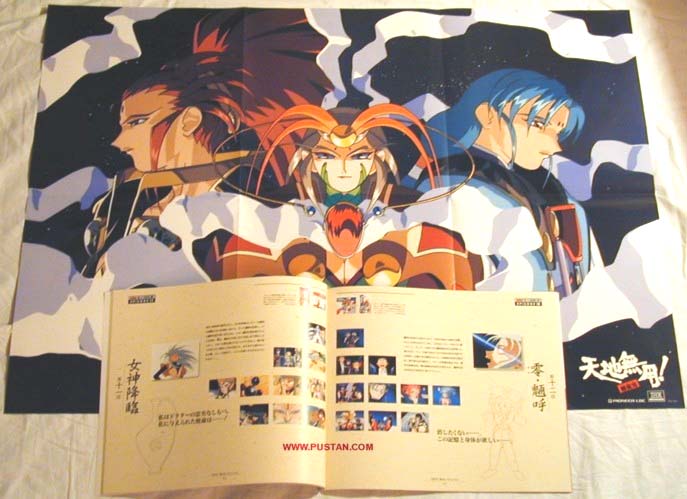 Here you can see the poster. Also another photo of the open booklet. Nice remastered set from Pioneer with THX certificate and Dolby Digital 5.1 mix.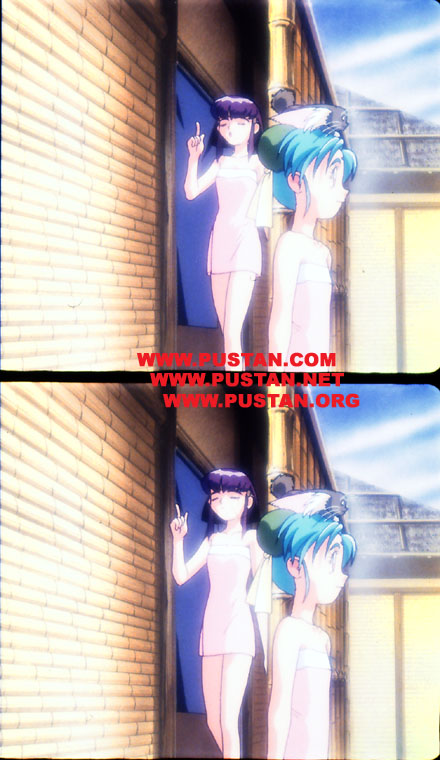 Here is a scan of the film strip, shows a scene with Ayeka, Sasami and Ryo-Ohki at the hot springs. Every box (should have included) a different piece of film.